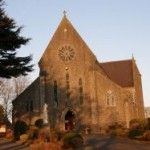 Masses subject to change. Please refer to weekly newsletter.
Saturday
6.00pm
Vigil Mass
Confessions after 6pm Mass when requested
Sunday
10.30am Mass
Monday
9.20am Mass
Adoration of the Blessed Sacrament 3/5pm....time of quiet prayer sitting with the Lord.

Tuesday
Wednesday
9.20am Mass

Thursday
Friday
9.20am Mass
All the post-Reformation parish chapels, down to 1867, stood within the Belfry graveyard. The venerable old chapel of the penal times was taken down about 1770. The chapel, which replaced it, was in use for almost another one hundred years, being in use till 1867. The Belfry, which is still standing, was a later addition, dating from 1823.
A prominent place in both these chapels was held by a beautifully-carved oak statue of the Virgin and Child, said to have been brought from Spain by Patrick Lincoln, a wine merchant of Thomastown, who died in 1666. Mr. Lincoln's widow, Mary, otherwise Dobbin, who died in 1709, presented the statue to the parish in 1705. She also presented a silver chalice to the church which was afterwards stolen. It bore the inscription Orate pro anima Mariae Dobbyn, quae me fieri fecit, 1687 [Pray for the soul of Mary Dobbyn, who had me made, 1687].
The present fine parish church was begun in 1859 when Rev. Nicholas Kealy was parish priest, and opened on the 6th October, 1867. Mary Lincoln's statue still occupies pride of place to the side of the main altar close to the medieval baptismal font, also believed to have been used in the earlier chapels, and to have originally been the baptismal font in use in Jerpoint Abbey.
The above information on places of worship in the parish of Thomastown is, in the main, taken from Canon William Carrigan's History and Antiquities of the Diocese of Ossory (Vol IV pp 304-5)